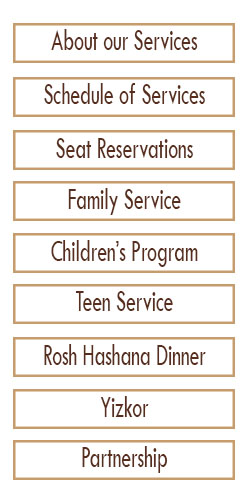 Join us for inspirational High Holiday services with Meaning, Melody an Humor.
Led by Rabbi Avraham Mintz, Rabbi Meir Simon

and Cantor Marvin Sonenreich.
If you're tired of nodding off into your prayer-book, join us for a High-Holiday program that's meaningful and easy-to-follow. We offer interactive Services in English and Hebrew, with uplifting commentary, stories, and explanations, everyone is welcome regardless of background or affiliation.

 
All are welcome
No membership fees or tickets
Warm, friendly community
Spirited, song-filled prayer
Relaxed, non-judgmental atmosphere
Hebrew/English prayer-books
User-friendly services
Exciting children's program & service
Babysitting
 
  Back by popular demand:
Exciting Family Servive in addition to the regular service.
Click the links above for more information about our programs and schedule of services

About our Cantor, Marvin Sonenreich

.




In addition to being a trained operatic tenor preforming at Lincoln Center in New York, Marvin has starred as Tevye in the Broadway favorite Fiddler on the Roof and has held numerous concerts and services throughout the United States and abroad.